Description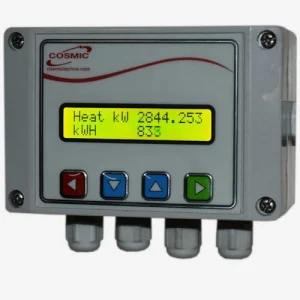 Features:
Uses input from industry standard Electromagnetic/Ultrasonic flowmeters for enhanced accuracy and stability
Calibrated flow meters ensures highest accuracy
Calibrated to matched pair of precision temperature sensors
User-defined flow span as per flow meter
Displays instantaneous and totalised net energy
Monthly Record of Heating & Cooling Energy for 12 months
Water Supply and Return Water Temperatures
Separate totalisers for Cooling and Heating energy
High grade non-volatile memory to store data
User friendly and high level security features to prevent tampering
Full protection for programming parameters
Computer connectivity to BMS using industry standard RS 485 Modbus communication port
 
Perfect for for billing needs of the industry: Electronic Calculating Unit BTU 809 is a microprocessor based system for accurate and reliable operation designed specifically for Chilled  & Hot Water Air Conditioning  systems.
The bright alphanumeric LCD Display of the unit makes the operation of the BTU meter extremely easy to monitor.
It not only displays Energy (BTU) Flow, Total BTU Consumption, but also the Water Supply and Return Water Temperatures.There are separate totalisers for Totalised Energy Flow Heating & Cooling.
Month wise Record of Heating & Cooling Energy for 12 months: Energy Total Heating & Cooling data for the last 12 months on monthly basis is logged into the system memory which cannot be deleted by the user. The data can be viewed on the BTU unit or remotely thru communication port.
High performance industrial grade non volatile on-board memory is used, which ensures that the data cannot get deleted even when the battery gets low and ensuring that it is tamper proof and secure.
Real time Clock with battery back up ensures that your Energy data is always monitored and logged with correct time punching even if your computer network link is down.
Applications:
Commercial office spaces & shopping malls
Residential apartments
Tenant energy billing
Cold storage billing
Efficiency measurement in heating/cooling systems